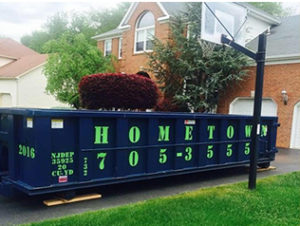 During home cleanout and renovation projects, garbage can pile up in mounds. From discarded materials in the attic and basement to worn-out furniture and carpeting, a house can wind up cleared of far more contents than would ever be accepted by a neighborhood garbage collector. For projects such as these, a larger and more specialized means of hauling is necessary.
Today, residents are turning to something that construction workers have used for years during cleanout projects: dumpsters. For cleanouts of various sizes, residents can now choose between two types of containers: dumpsters and Bagster® Bags. Naturally, this begs the question: Which is better, dumpster or Bagster?
Why Choose a Dumpster over a Bagster
A dumpster can be used to haul away a vast range of contents, including garbage, debris, cuttings, carpeting, and furnishings. While the dumpster has long been a fixture of demolition and renovation sites, the bin type is now also being used by homeowners for a variety of small, medium and large-scale cleanout projects. In the dumpster vs. Bagster debate, the former is generally favored for its accommodating sizes and weight capacity.
How Much Is a Dumpster Rental?

Dumpster rental fees vary according to the size of the dumpster and the county in which a given project takes place. It also depends on how much you plan to get rid of with a dumpster — are you cleaning out a room or your entire house?
Small dumpsters rented for short amounts of time can carry the lowest fees. Base pricing can vary in each county Our customer service team can make recommendations that lead to cost-effective solutions with the material used to not see additional charges.
The most important thing to do when you look for a dumpster rental service in New Jersey is to determine the amount of junk you'll be clearing out and calculate how much dumpster space this project will require. Make an estimate of how long this project will likely take to complete, then share all these details with a specialist to negotiate the best price possible.
How to Get a Dumpster to Your House   
Dumpsters can be hauled to virtually any location within the coverage area of a given service. In New Jersey, Hometown Waste & Recycling Services Inc. offers rental dumpsters to residents and businesses in the counties of Middlesex, Monmouth, Ocean, Essex, Somerset, Mercer, Union and surrounding communities including Old Bridge, New Brunswick and Middletown Township. In order to get a rental dumpster delivered to your property, all you need to do is call up a service specialist in your area and hammer out the following details over the phone:
Amount of space you're clearing — How large of a space will you be clearing out? Specify the scope of your project — one room, two rooms, a full house, a yard, a building floor, etc. — as this will help determine the necessary dumpster size.
What materials are you putting in the dumpster?
Location — NJ Laws require handling materials within a county be disposed at the counties required site resulting in monopolized costs.
Length of the project — How long might your project take? You might have an idea, but if this is your first big cleanout, you might be liable to underestimate the amount of time required for such an undertaking. A dumpster specialist can help you set a more feasible timeframe, which in turn can help determine the end costs.
Once all the basic details are understood, you can arrange to have a dumpster delivered to your property, as well as an estimated time for its eventual haul away.
How Much Weight Can a Dumpster Hold?     
Dumpsters come in a range of sizes to suit a variety of house-gutting and cleaning projects. For projects that only involve the clearance of junk from one or two rooms, a dumpster the size of a four-door car will generally be large enough. By contrast, a project that involves hauling out tables, sofas and tree trunks will require a dumpster with greater height. As far as dumpster size requirements are concerned, projects can be broken down into the following categories:
Small projects: For projects that range from single-room clearance to small home renovations, a 10-yard dumpster will generally suffice. 10-yard dumpster rentals can be used for concrete, asphalt or dirt products available upon request.
Medium projects: The renovation of larger homes and the clearance of bushes and trees is best handled by a 20-yard dumpster, which is also suitable for large furniture items. 20-yard can be used dumpster rentals for concrete, asphalt or dirt products available upon request.
Large projects: Commercial projects such as the demolition or renovation of buildings or large roofing jobs will generally require 30-yard or 40-yard dumpsters, which are higher.
Dumpsters can range anywhere from one ton (minimum) to an excess of 20+ tons depending on the density of the items being disposed of.
Why Choose a Bagster over a Dumpster
For small and medium-sized cleanout projects, Bagster has become a popular bin option among residents and business owners. Since each Bag is purchased upfront at a reasonable price, there are no rental fees — the only remaining cost involved is the Bagster collection fee. While there are limitations on the size and weight thresholds for both Bags and dumpsters, Bagsters aren't as transparent in their limitations, and loading large items can create additional challenges.
As such, Bagster reviews tend to be divided based on the needs of various users, only some of whom can actually complete a project with just one Bag.

How Much Weight Does a Bagster Hold?
Bagster Bags are 3 cubic yards, 8 ft. long, 4 ft. wide and 2.5 ft. tall. Each Bag is capable of holding 3,300 lbs., which equals 1.65 tons. However, there are limitations to how much of that weight can be held in a single spot. The most preferable way to use the Bag is to fill it full with evenly distributed objects that range from lightweight to medium-heavy, as the collective weight can add up to capacity. Examples of sensible distribution could include any of the following:
Rows of moving boxes that weigh up to 40 lbs. apiece, with each box consisting of disposables like old newspaper, broken dishes and outgrown or outdated clothing.
Glad® bags full of dead bushes, stale bark, cleared overgrowth and uprooted weeds.
Rolled-up old carpeting and evenly distributed bedding items such as pillows, comforters and mattresses.
Small bags or boxes of relics with no resale value — scratched-up LPs, laser-rotted CDs, boundless paperbacks — from the living room, attic or basement.
Users must beware of weight capacities when loading items like bricks, which take up little space but comprise a lot of weight. The Bag is only capable of holding one cubic yard of heavy material like concrete, asphalt and dirt.
How Much Does It Cost to Have a Bagster Picked Up?
The costs associated with Bagster are relatively straightforward since there are no rental fees involved. You simply pay for the bag upfront and then pay to have it carted off once you've filled it to capacity or otherwise cleared away all the garbage on your property. The price for the Bag and subsequent pickup are as follows:
$30.00 for one Bagster Bag, which can be purchased at home-supply stores such Lowe's and Home Depot.
$175.00 for trucking service that removes the Bag from your property.
Additional charge for Bags over 3,300 lbs.
Therefore, the standard cost of using Bagster for a cleanout of your property is $205.00. Since the Bag is something you own instead of rent, there are none of the pricing miscalculations that can sometimes stem from rental fees. If your project runs past a projected timeframe, you don't have to worry about any penalty fees that would likely be charged in a rental situation.
However, there are limits to just how much can be fit into a single Bag. If the bulk of your refuse exceeds the weight or size capacity of one Bag, you might need to buy two, which could nearly double the price of your cleanup project. For starters, each additional Bag will bear the same $30.00 price tag, while the trucking service will charge a further $150 for the second pickup. Therefore, even if the scope of your cleanup project only calls for a one-and-a-third Bag capacity, your ultimate cost could be $385.00.
How Does the Bagster Work?
With Bagster, you purchase the Bag at your local Home Depot and take it home for quick, easy setup in the most convenient location on your property. Granted, the Bag will need to be situated within five feet of the street curb in front of your house at the time of pickup. Therefore, you won't want to fill the Bag too heavily before placing it in a suitable location for takeaway. With one Bag, you can expect to accomplish any of the following projects:
Kitchen and bathroom renovation. A Bag will handle most of the old junk you'd wish to discard from either facility, be it worn pots and pans, dilapidated throw carpets or outdated toiletries.
Attic and basement cleanout. Bags are good for tossing old junk that you never want to see again, such as yellowed newspapers, outdated paperwork, moth-ridden clothing items, tacky lamps, velvet paintings and other home fixtures of yesteryear.
Yard and deck cleanup. Clearing away old fixtures, broken boards and dead bushes from your patio or backyard is easy with Bagster, which can be used to haul away old potted plants, broken fountains and other things that don't fit your future outdoor scheme.
Bagster can also be used for cleanouts of bedrooms and living rooms, as long as you don't intend to place large sofas and queen-sized beds into the bag. Granted, even one major cleanout of mostly smaller items could necessitate more than one Bag.
Can You Put Dirt in a Bagster?  
Bagster can be used to remove uprooted dirt from your property, but there's a limit to just how much dirt can actually go into a single Bag. As with other debris such as concrete, brick and asphalt, dirt can be quite heavy in large clusters. With an overall Bag capacity of 3,300 lbs. and three cubic yards, Bagster allows only one cubic yard of dirt per Bag.
While Bagster does allow natural debris, there are various items and substances users cannot place inside Bags, including the following:
The circuitry inside electronic items like stereos and PC motherboards can make them hazardous within compost piles at landfill sites.
Toxic chemicals. Fluids that are flammable such as aerosols, lighter fluid or nail polish or otherwise indigestible like bleach, ammonia and paint cannot be discarded — contained or otherwise — in a Bagster Bag.
Therefore, a Bag is not to be used for indiscriminate disposal of waste during a cleanout project. If you have an expired piece of electronics, donate the item or trade it in at a local aftermarket dealership that handles such equipment. Likewise, if you have any leftover toxic chemicals you no longer need, dispose of the contents in your toilet and recycle or discard the containers through conventional means.
Pros and Cons of Dumpsters     
Dumpsters are the favored option for large cleanouts of garbage and old furnishings from homes and buildings. A dumpster can be rented in one of several different sizes — 10 yd., 20 yd., 30 yd., 40 yd. Unlike Bags, dumpsters will hold virtually anything. Since the dumpster is towed to and from your home or building, it can be situated on a road, driveway or side alley throughout the tasks at hand. Dumpsters can even be rented with wood planks for added safety. Basically, the pros of dumpsters can be summarized as follows:
Excellent for clearing out loads of any size.
Can be rented in a variety of sizes.
Recycle-friendly with competitive pricing.
Large and Sturdy for all needs and purposes
Dumpsters are rented, not purchased, and this can end up being costly unless you set your project on a firm timetable. Due to the height of larger dumpsters, it can require additional lifting machinery to place objects inside. For example, on a 40-yard dumpster, the walls are eight feet high. Therefore, hauling a sofa into a dumpster of that size could require a tractor. As such, dumpsters have the following downsides:
Rental costs can add up when projects exceed projected timelines.
High walls on large dumpsters can necessitate additional lifting equipment.
For just about any massive cleanup project, dumpsters are the preferred option, whether you're dealing with a big cleanout of your entire house or something large-scale like a renovation or demolition.
Pros and Cons of Bagster 
Bagster is a convenient option for small bulk cleanouts of garbage from your home, provided the objects you intend to get rid of are neither too large or too heavy. The Bag is purchased upfront and hauled away at a flat fee. Therefore, you know how much you'll be spending from the get-go because there's no rental fee. Unlike dumpsters, the Bag can be carried home by hand and set up in the most convenient outside locations for the disposal of items. In short, Bagster has the following pros:
Reliable for clearing out loads of moderate bulk and weight.
Set price and haul-away feel with no rental charges.
Easy to bring home and set up.
Bagster is available in one size and ultimately has limits regarding how much it can hold. Though a user could purchase two or three bags if needed, the pick-up fee for each would be charged separately. Therefore, if you have 1.3 Bags' worth of junk to haul, it will cost you the price of two. There are also limitations to what you can put into a Bag. Only a small amount of dirt can be included, while hazardous items like chemicals and toxic paint are prohibited. A Bag must also be within five feet of the curb at the time of pickup, which ultimately limits where the Bag can be placed during the active stage of home cleanup. Consequently, Bagster has the following cons:
Limited carrying capacity.
Must be placed near the curb for pickup.
Hazardous garbage items are prohibited, which gives you a small bang for your buck.
Basically, if you plan to rid a room or two of garbage, Bagster will give you a place to put all of the non-electronic, non-hazardous junk for easy pickup, but could possibly leave you with an unfinished project.
Rent a Dumpster From Hometown
As the dumpster vs. Bagster debate continues, residents in New Jersey overwhelmingly prefer the diverse set of dumpster options provided by Hometown Waste & Recycling Services Inc. With dumpsters that range from 10 to 40 yards in size, we have something for virtually any type of cleanout project. Each day, people Google the phrase "dumpster rental New Jersey" and are brought to this site, only to find themselves the happy renters of our strong, reliable dumpsters. As local residents will attest, our customer service representatives are happy to assist with any questions regarding dumpster rentals of all sizes and time spans. To learn more about why NJ residents love Hometown dumpsters, contact us today for a free quote on our rental services.