DUMPSTERS FOR HOMEOWNERS IN NEW JERSEY
Whether you're moving or just doing some spring cleaning, you'll need a proper way to dispose of waste.  Hometown Waste offers a range of roll-off containers to ensure your project can get completed.  Contact our support team today with details on your project and we'll be able to provide you with a recommendation for the best dumpster size for the job.
Residential Dumpster Rental Sizes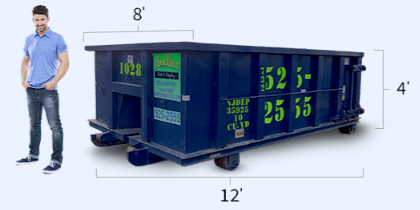 10 Yard Dumpsters:
Measures: 4'T x 8'W x 12'L
Capacity: 10 cubic yards of home waste
Best Use: Small projects like a garage cleanout or spring cleaning.
Note: Not recommended for furniture items.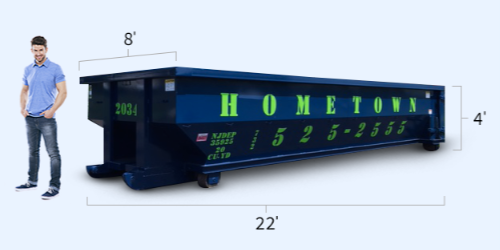 20 Yard Dumpsters:
Measures: 4'T x 8'W x 22'L
Capacity: 20 cubic yards of home waste
Best Use: Mid-size projects like cleaning out an attic and disposing of shrubs and yard waste.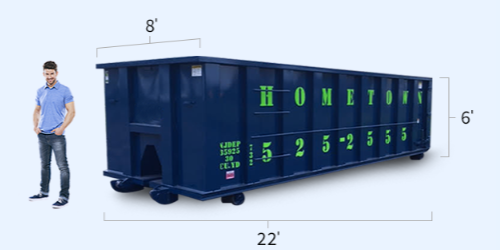 30 Yard Dumpsters:
Measures: 6'T x 8'W x 22'L
Capacity: 30 cubic yards of home waste
Best Use: Large jobs such as a kitchen overhaul, replacing carpet in multiple bedrooms, or a home clean-out after a flood.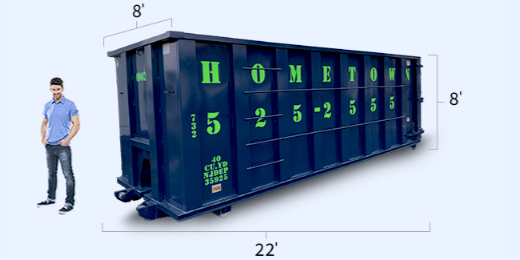 40 Yard Dumpsters:
Measures: 8.5'T x 8'W x 22'L
Capacity: 40 cubic yards of home waste
Best Use: Disposing of waste from a hoarder or an entire estate clean-out.
Dumpster Rental For Your Home in NJ
Many home improvement and other residential projects require more than just a trashcan to effectively get rid of waste. At Hometown Waste, we offer residential dumpster rental services in NJ. These dumpster rental services mean you can inexpensively secure a roll-off dumpster rental to dispose of your waste during your home project.
Roll-off dumpsters can be placed on your property without needing a permit from your local township. If the street placement of your roll-off dumpster rental is necessary you will need to provide a copy of a street permit. Lastly, make sure you have all the tools and resources you need to take your residential project where you want. Call Hometown Waste if you have any further questions or if you need a residential dumpster delivered to you in New Jersey!
Dumpsters For Residential










Residential Dumpster Uses and Debris Types
Our residential customers contact us when they are in the midst of a range of significant home projects. We offer a range of dumpster services in NJ.  Homeowners in NJ commonly use our dumpster containers for projects like:
Estate clean up or cleanout
Getting rid of waste when moving
Storm cleanups
Cleaning out a garage, basement or attic
Getting rid of ruined items after a flood
Kitchen or bathroom remodel
Removing carpet from rooms throughout their house
Disposing of furniture or other large items in their home
Gardening and landscaping projects around the house
More
While we offer 10 yard, 20 yard, 30 yard, and 40-yard residential dumpster sizes for rent, our customers most often inquire about our 10- and 20-yard products. Not sure how much space you're going to need? Get in touch with our customer service team of friendly, helpful individuals who can make a recommendation on what size dumpster will best suit your unique project.
Your Source for Roll-Off Dumpster Rentals
We roll on and roll off your dumpster to make things as easy as possible. We know home projects that require dumpster rental for residential NJ areas have enough challenges of their own without us adding to your problems. Simply give us a call, and we'll deliver your clean, affordable dumpster rental.
Use your dumpster for the home project of your choice, and we'll pick it up when your project is over. It's that simple. You'll find a number of companies that offer residential dumpsters for rent in New Jersey, but you won't find the same combination of affordability, quality products and exceptional customer service as what you'll find when you choose Hometown Waste.
We deliver roll-off dumpsters to the following counties and towns: Middlesex County, New Brunswick Township, Monmouth County, Middletown Township, Ocean County, Essex County, Somerset County, Mercer County and Union County.
Contact us today about residential dumpster rental services in NJ.
Book Your Dumpster Online
Call Us Now At 732-525-2555
Contact An Agent Today
For any inquiries or for multiple dumpster rental bookings, fill in our quick contact form. We'll be in touch within the next 24 hours! Or call us directly on 732-525-2555 to speak to an agent.